SafeCoin Weekly Public Meeting Summary | November 14th 2021
SafeCoin Weekly Public Meeting Summary | November 14th 2021
Every Sunday, SafeCoin holds a public development meeting to keep the community up to date on the weekly happenings. Here is a summary of our meeting from Sunday November 14th.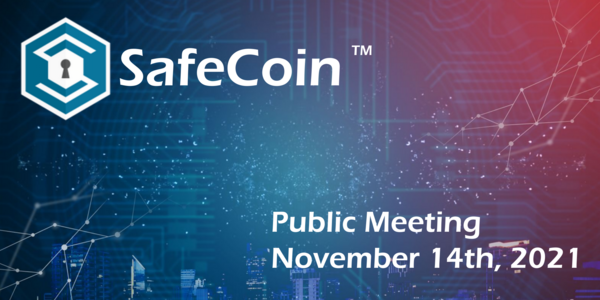 ---
There are two outstanding items on the SAFE schedule: Safe.Trade update and SafeCoin Version Update.
Safe.Trade Update
Safe.Trade anticipates having their upgrade out this week. This will allow USDC-SPL and Solana-based SPL-Tokens to be listed. Users will then be able to use USDC-SPL as an additional trading avenue for SafeCoin.
SafeCoin Upgrade
An update to the SafeCoin code base is coming soon as well, possibly later this week. This will enable the bootstrap node to be taken offline finally. Anyone staking towards that node (Vote Account) should delegate towards a different Validator immediately. This update will also lower Voting Fees for Validators, as well as hard coding the 36m maximum supply.
Solana Breakpoint Conference
Founder Jeff Galloway attended the Solana Breakpoint conference in Lisbon this past week. The primary goal while attending was to raise funds for Safely, another major release in the SAFE Ecosystem. Secondly, a major goal was to bring attention to SafeCoin itself. Jeff stated that both goals were very successful, and they returned with a list of leads to follow up on.
Solana/SafeCoin developers are hard to find, even at the conference. It seems the best route currently is to train the good developers already attached to the project.
Many gaming projects were represented at Breakpoint. SafeCoin attracted a number of interested builders, and the team will follow up on those leads.
SafeCoin Token Added to Solana
The tokenized version of SafeCoin has been added to the Solana Network. This will eventually allow for trading on Raydium and Serum. The total supply is 100k SAFE, at this address. Once the "SafeCoin" name is applied to the token, this will block any other tokens from using the brand on the Solana Network.
Multiple DEX Launches On-Schedule
SafeSwap DEX will be the traditional DEX launch, with build in AMM swapping, as well as a planned order book trading page.
Safely DEX will launch along side SafeSwap, but will fall under a regulated umbrella. Many more unreleased details to come.
SafeCoin Token Registry
The Team is exploring the best route to take for registering information on token creation. Currently, Solana utilizes GitHub and Pull Requests to register a token. SafeCoin hopes to streamline this process and make it much more user friendly.
Staking Upgrade
The staking site Stake.SafeCoin.org received a huge upgrade this week, courtesy of Developer Ara.
SafeCoin branded Ledger Nano S Released
There is a lot of behind the scenes development going on this week. The Team is overloaded with projects, and anyone wishing to help out would be greatly appreciated! As a Community Project, we need the community to be heavily involved in building, in dApps, How-To materials, etc.
Stay up to date with all SafeCoin Development!