SafeCoin Weekly Public Meeting Summary | October 10th 2021
SafeCoin Weekly Public Meeting Summary | October 10th 2021
Every Sunday, SafeCoin holds a public development meeting to keep the community up to date on the weekly happenings. Here is a summary of our meeting from Sunday October 10th.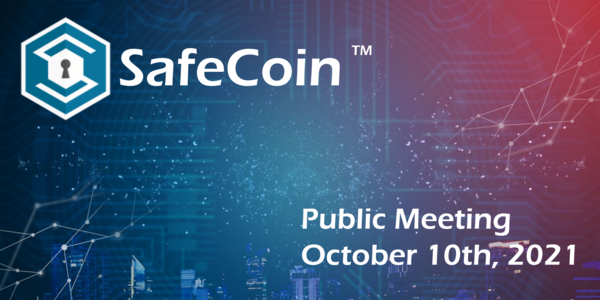 ---
Final Stages of SafeCoin Swap
Graviex and CREX24 have completed their final integrations into the new Solana-based SafeCoin network. Graviex is using the native SAFE network for trading, while CREX24 is utilizing the ERC-20 "eSAFE" token for trading. While the swap has been over for some time, a final burn of coins remains for the swap to be officially closed.
Ledger Integration
SafeCoin's addition to the Ledger ecosystem is nearing finality. We are working with a few logistic centers for distribution world-wide. These will be SafeCoin-branded Ledgers. We are eying distribution centers in order to plan for future e-commerce solutions for SafeCoin. Currently, we have the ability to distribute out of the US, Germany, Malaysia, and France.
SafeTrade Update
The latest update for SafeTrade will be coming this week. The first of many Stablecoins will be available on the exchange, Solana-based USDC. By utilizing this version of USDC, users will be able to use Circle for fiat on-boarding. This is the first step in SafeCoin and SafeTrade's Stablecoin integration.
SafeCash Protocol Development
SafeCash Protocol is SafeCoin's implementation of Stablecoins on-chain. This is a Road Map item years in the making, and having that ability on the SafeCoin chain will bring speed and security to Stablecoin trading.
SafeSwap Development
SafeSwap DEX development is ongoing. Developer "Metacharles" is doing great work with SafeCoin Smart Contracts involved with the DEX. The plan is to include order book trading, as well as AMM trading to allow for multiple DEX trading options.
Liquidity Pools
SafeTrade will begin using liquidity pools via Hummingbot in the near future. This will bring heavily requested liquidity and volume across a majority of trading pairs. Once released, SafeSwap DEX will also utilize this liquidity.
Fiat Onboarding
A method of Fiat On-boarding is in the beginning development stages, and is a priority in the near future. There isn't enough information to make public at this time, but it is coming.
It was another great week for SafeCoin development, and the project is beginning to see recognition from all of the hard work.
Stay up to date with all SafeCoin Development!