SafeCoin Weekly Public Meeting Summary | October 24th 2021
SafeCoin Weekly Public Meeting Summary | October 24th 2021
Every Sunday, SafeCoin holds a public development meeting to keep the community up to date on the weekly happenings. Here is a summary of our meeting from Sunday October 24th.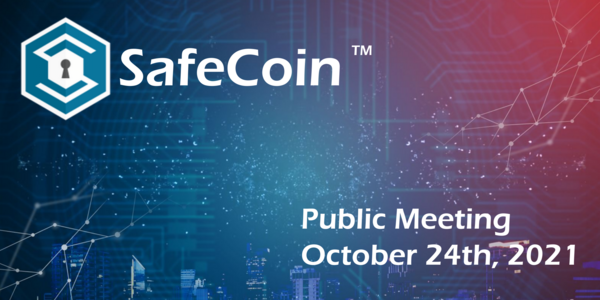 ---
Web Wallet Upgrade
The SafeCoin Web Wallet received a much needed upgrade this week, updating security, and adding Ledger Live support. We are waiting for Ledger to complete their SafeCoin integration, which should come very soon. Developers phael and Ara have spent a lot of time working on Ledger integration and the Web Wallet.
Explorer Upgrade
The SafeCoin Explorer also received a fantastic update this week. Stake Reward History, Network Statistics, and many more features were added.
SafeCoin Community Page
SafeCoin has always been, and will always be a Community-focused project, run by the community. Being so, we do not have an official hierarchy like other projects. As requested, we have created a Community Page on SafeCoin.org to highlight members of our community that help make SafeCoin a success. If you wish to be included (or not included) please let us know.
Final Coin Burn
Now that Crez24 and Graviex have finalized integrating the new SafeCoin chain, we will be completing the final coin burn from the network swap. This should be completed later today. The next steps will be to update all coin aggregators (CMC, CoinGecko, etc) with current information.
SafeTrade Upgrade with USDC-SPL
The SafeTrade Upgrade was pushed back this week due to other priorities becoming more urgent. We anticipate this upgrade to occur this week. SafeTrade has also hired a full time smart contract developer to assist the Dev Team with continuing to build.
There is a lot of behind the scenes development going on this week. The Team is overloaded with projects, and anyone wishing to help out would be greatly appreciated!
Stay up to date with all SafeCoin Development!