safebridge
Safebridge – a New Standard In Secure Interoperability
Connecting the Solana ecosystem to fast, uninterrupted performance without any congestion
There is a clear, immediate, definitive need for a reliable security focused interoperability platform in cryptocurrency. We introduce SafeBridge, a fully functioning decentralized cryptocurrency bridge within the Safecoin Ecosystem. The Safecoin Ecosystem is based on a 100% compatible Solana-based chain with improved efficiency, decentralization, and performance.
On this page
Visit Safebridge
What is Safebridge?
After a successful launch of SafeBridge Testnet, we are now ready to move into production with SafeBridge Beta! SafeBridge is a fully functioning decentralized cryptocurrency bridge, a game-changing addition the Solana Ecosystem, and the backbone of the Safecoin Ecosystem.
SafeBridge is a key DeFi component which will be utilized by our upcoming DEX - Safeswap. With the tranisition to SafeBridge Beta, SafeCoin can now offer limitless possibilities of secure blockchain interoperability for new and existing applications within the Solana and Safecoin Ecosystems. Projects and tokens can now be confidently built on the Safecoin blockchain by having seamless integration with other major networks. Using the security centric SafeBridge, one now has the following capabilities:
Fully functional migration of SAFE and ETH (native and tokens) across both chains
Fully functional migration of SAFE and SOL (native and tokens) across both chains
Upcoming chain integration with: BSC, AVAX, ADA
Talk to us about adding your blockchain today!
Furthermore, SafeBridge now opens many channels for which SafeCoin can be accessed. SafeCoin can now be listed on popular DEXs built on ETH and SOL such as (Uniswap, Raydium, Serum, etc.). Thus, allowing SafeCoin to branch out of its current ecosystem and establish itself in a larger community of cryptocurrencies.
A simplified flow chart of how SafeBridge, forked from Wormhole, is being integrated within the Safecoin ecosystem (including SafeTrade) is shown below: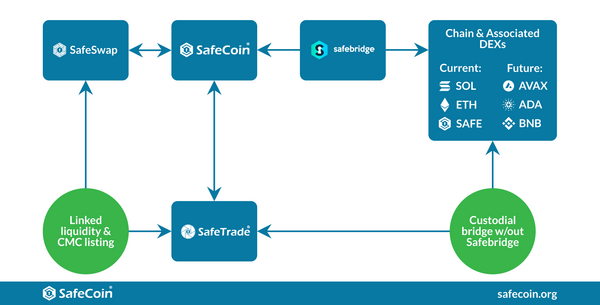 Safebridge within the SafeCoin Ecosystem
Why Safebridge?
Due to the recent bridge exploits which have occured over the last few months, there is an immediate need for a robust and "safe" blockchain bridging platform. Wormhole, which blindly trusts the blockchains involved in the transaction, allowed 80,000wETH to be minted without any coins being deposited due to a bug in the solana codebase. Contrast to this, SafeBridge ensures every swap is valid with additional checkstops to verify the circulating supply and balance of each transaction before and after minting. SafeBridge was developed to introduce additional checkpoints to mitigate the most dangerous security threat to have ever existed: human error.
How does it work?
SafeBridge will validate every swap with addition of checkstops which verify the circulating supply and balance of each transaction before and after minting. In addition to the security of the involved bloackchains:
SafeBridge will essentially add a two factor authenticator to double check the circulating supply at the start of the process and again just before the tokens are minted
This ensures that no tokens are minted without locking and verifying the initial deposit
A basic flow diagram is illustrated below which highlights Safebridge Beta functionallity, with key additions in full SafeBridge with the green action circles.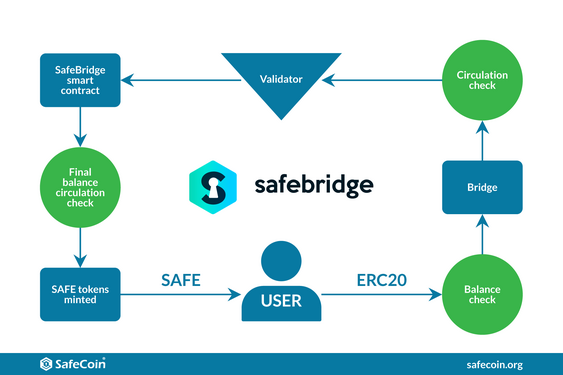 Flow diagram highlighting Safebridge functionality
---