Introducing the MATCH Protocol for SafeNodes
Introducing the MATCH Protocol for SafeNodes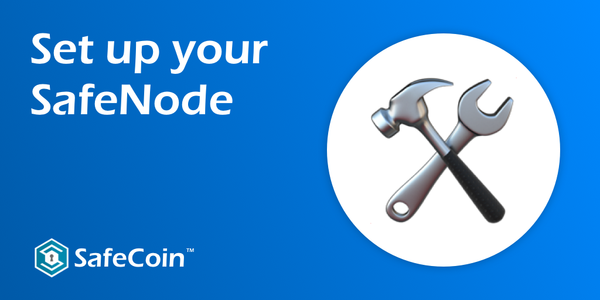 ---
The SafeNodes MATCH Protocol: A Brief Explanation
The SafeNodes MATCH (Multi-Asset Transactional Consensus Hardening) protocol, expands upon Komodo's dPOW, using notarization to integrate with multiple blockchains. This improves security and forms new relationships with some of the world's leading decentralized cryptocurrency projects. All of this, in a sustainable manner with no net cost to SafeCoin or any of the projects which are part of the integration. Simply put, we are stronger together. The MATCH protocol aims to quantitatively and qualitatively reflect this, as we continue to mature the technology and move towards an open protocol.
The MATCH protocol provides a framework which protects blockchains from double-spending through notarization, which is a novel cross-chain linking method. The concept behind this protocol is that cryptocurrency projects are stronger when we work together rather than apart. Although the actual protocol does not require cooperation, it does encourage it.
In addition to nodes writing transactions to the MATCH blockchain (SafeCoin), they also write transactions (notarizations using OP_RETURN) to "Protector Blockchains" for example (but not limited to) Bitcoin, Ravencoin or Bitcoingold, which is verified by all SafeNodes.
This unique process of writing and verifying on multiple blockchains is what brings much higher security to SafeCoin, as it makes a 51% or Double Spend attack nearly impossible because several blockchains would need to be simultaneously compromised. While SafeNodes protect SafeCoin through strict verification, the actual notarizations are both frequent (they do not rely on 10-minute blocktimes) and hard to predict, as multiple blockchain notarization offers an element of randomness and complexity which impedes potential attempts to compromise them.
In return, this allows cross-chain linking via SafeNodes as can be seen in this figure: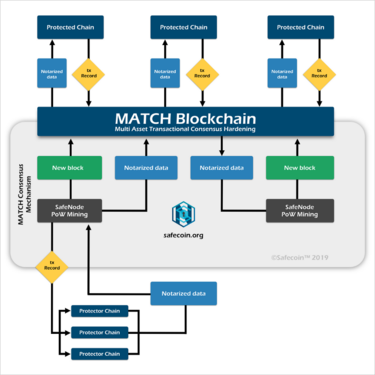 A Protected Blockchain writes a tx-record into the SafeCoin blockchain and receives back notarized data. The protected chain's tx-record is then picked up by the SafeNodes via MATCH protocol to become part of a new tx-record that gets written into several other blockchains. The returning notarized data now contains tx records of all chains protected by SafeNodes. The proposed Match protocol has no net cost and may be the only current sustainable method of cross-chain linking to protect proof-of-work blockchains.
The SafeNodes MATCH Protocol: A World-First Multi-Asset Demonstration:
Multiple Protector chains (Bitcoin and Ravencoin, protecting SafeCoin):
https://ravencoin.network/address/RKcCvBmCmobHFcXbMgsPS3x28Za8xaPh4K
https://ravencoin.network/address/RUEdrPiatQhVxJTkBegfoXwXKm85AYdoNr
https://www.blockchain.com/btc/address/1BL1qfsvAyniBcAPtWtGLXcpNJ7YLj1DNk
https://www.blockchain.com/btc/address/17zgAbdWw2bXhQdjnRLQ6SApaBQ5REp9zs
MATCH blockchain (Mined SafeNode blocks and notarizations):
https://explorer.safecoin.org/address/RiwouJ4VUz4A53fgP7ChvBDom4q5fWyKuD
https://explorer.safecoin.org/address/RsaEqW1sbbANmjbqD51zHfDJxGP1xMVoVG
The above demonstration shows rudimentary notarization and protection from Bitcoin and Ravencoin. Ravencoin is the first additional coin we have experimented with; it was chosen not only for its high hashpower, but for its strong community presence, strong grassroots cypherpunk values, active development and considerable growth in adoption.
We are looking for projects that we believe will have a lasting impact in the cryptosphere as well as the growing worldwide adoption of cryptocurrency, projects that can benefit from protection and those that align with our vision of the world's first sustainable, no-cost cross-chain linking protection.
What's next for SafeNodes?
While SafeNodes are under active development, we will begin to offer staged releases as previously announced, with 3 Tiers: 10k, 50k, and 100k collateral. As can be seen in this release, the capabilities and scope of SafeNodes are significant, and we will be sure to deploy them in a staged implementation that ensures fairness, equitability, and functionality. Along with this rollout, SafeCoin will release a revised whitepaper explaining the methodology of SafeNodes and refined development goals. Additionally, an Open Protocol will be released that will allow any blockchain project to use, integrate and even help develop MATCH, at no cost.
Thank you for your time
Visit us in Discord today for the latest info and discussion! https://discord.gg/c6hWAkQ
Telegram: https://t.me/SafeCoinEN