Mandatory Validator Update to 1.7.17
Mandatory Validator Update to 1.7.17
SafeCoin has released a new version, 1.7.17, with a host of new and updated features.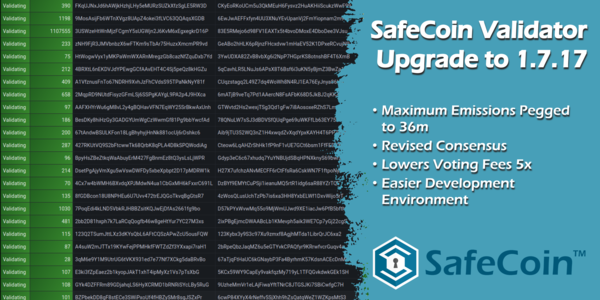 ---
Pegs our emissions to a maximum supply of 36 million SAFE (no changes to awards at this time).
Implements @bighead's revised consensus improvements.
Lowers Voting fees 5x to ease the entry point for Validators.
Brings us to the latest version Solana main-net.
Features dramatically improved support for development and our Devnet/Testnet environments to facilitate the needs of those currently building on our chain.
This update will also see the Boot Strap Validator be decommissioned shortly after. Please be aware, if you are Staking towards 83E5RMejo6d98FV1EAXTx5t4bvoDMoxE4DboDee3VJsu, you need to move your Stake IMMEDIATELY. This Validator will go offline soon.
There is a lot of behind the scenes development going on this week. The Team is overloaded with projects, and anyone wishing to help out would be greatly appreciated! As a Community Project, we need the community to be heavily involved in building, in dApps, How-To materials, etc.
Stay up to date with all SafeCoin Development!